In order to clarify which machine part or which spare part you see in front of you when a job is to be carried out or a spare part is picked up from the warehouse, INEXTIA supports printing labels on components and items.
In addition, the label also makes it possible to do quick searching in the app, as the label can also display QR codes which the app can scan.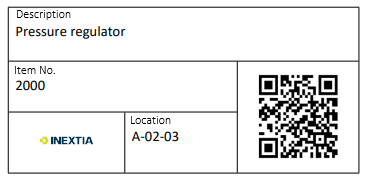 The item-label, as shown above, is just an example of what the label-layout can look like.
The layout is defined by the users in a Word document, which means that it is not locked in any way. This gives you the opportunity to set up a label that fits exactly in size and layout to your needs.
Set up
Before the first labels can be printed, templates of these must be added to INEXTIA.
As mentioned, these templates are built in a Word document. See detailed description of how it is done here.
When this is done, the Word file is added as a document in INEXTIA just like other files.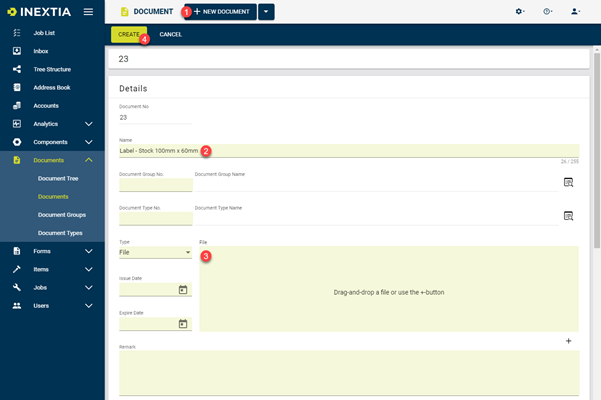 Click on "NEW DOCUMENT".
Create a name for the document.
Drag and drop the file to the "File" space.
Click on "CREATE".
When the label template is registered as a document, INEXTIA then needs to know that the document is used as a print label.
This is done from the OPTIONS screen.

Open the OPTIONS screen.
Click on "EDIT".
The "EDIT" button does not show on the screenshot but is in the same place as the "SAVE" button.
Go to Items.
The registered document is searched for and chosen.
Pick a name for the label.
Insert a short descriptive name. This is what appears when the label is selected for printing.
Note that many different labels can be created so that they can be printed in different formats in the organization.
Click on "SAVE".
Print
Labels are printed from the component or the item screen.

In the example above, an item is selected. To print the label, click on the "PRINT LABELS" button, which will open a new screen showing the label. It is possible to choose between different sizes and layout on this screen.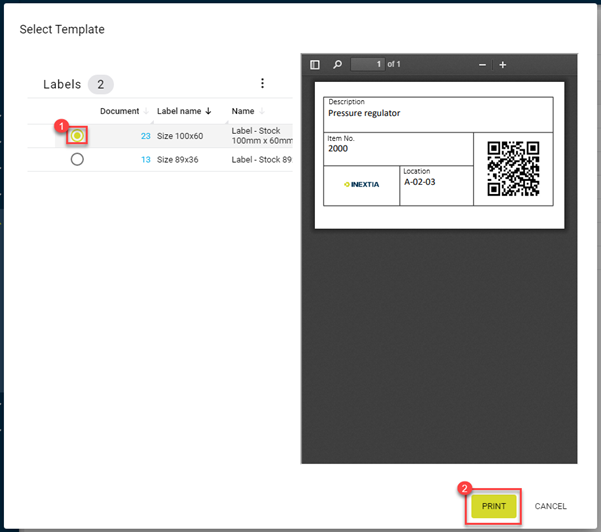 Choose label.
Click on "PRINT".
This opens the browser's standard print dialog, from which printer, number of copies, etc. can be selected.