INEXTIA users are created on the user screen.
If a user is only going to use the app, the user is created in the same way in INEXTIA. Each user requires a personal login.
The user rights that the users have are managed through the user groups which they are part of.
User rights are e.g. permissions to read, update and delete, and access to various screens in INEXTIA.
Create user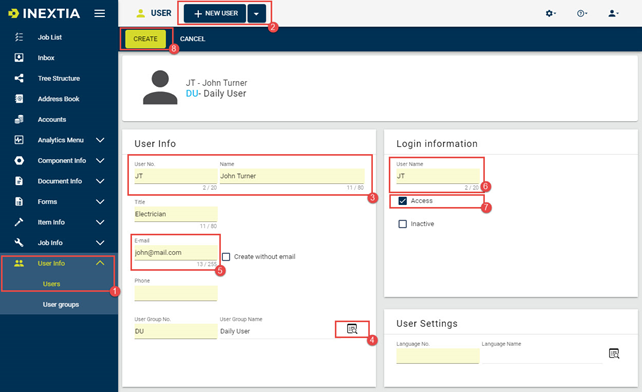 Open the user screen from the menu on the left side.
Click on "NEW USER".
Fill out User No. and name. In most cases, initials are used as the User No. Name is first name and surname of the user.
The user group hence the user rights for the user is chosen.
Fill out the users e-mail address. This is important, as the user will receive an email with the link for the first log on. Read more about this in the next section.
Fill in the user name that the user should use for login together with a password chosen by the user.
Put a checkmark in "Access" so the user can log in.
When the required fields are filled out, click on the "CREATE" button to save the data.
INEXTIA will generate an e-mail to the user when it has been created.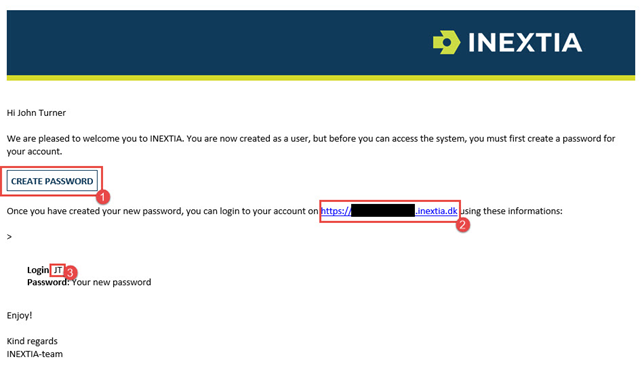 The user will receive the following information in the e-mail:
A link to create a password (the link is shown as a button). The user must click on this the first time.
The address of your INEXTIA site.
The username, used to log on with together with the new password.
When the user has created a strong password, he or she will be able to log in through the usual login site for your INEXTIA.
Create password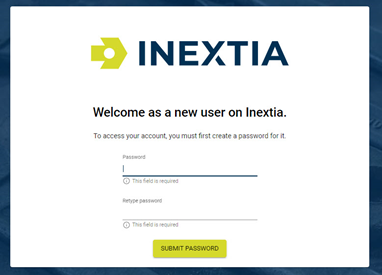 The image above shows the screen that will meet the user when clicking on the password link in the e-mail.
When the password is created, the user will be transferred to the usual login screen.